Scott Earns Trip to State Wrestling Tourney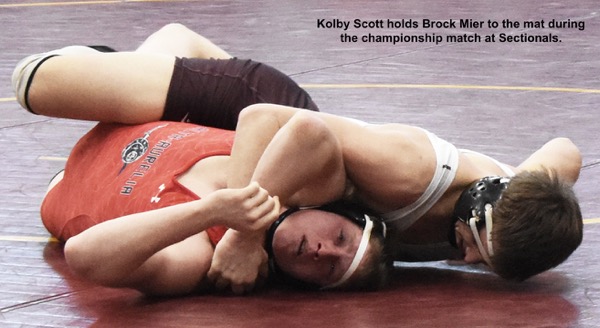 It was like dejavu of sorts for Kolby Scott. While the location was different and the outcome was different, Scott found himself on the wrestling matt wrestling the same person he wrestled a week earlier. The result between the two was the same, but this time, instead of earning advancement to the district wrestling meet, Kolby earned advancement to the state wrestling meet.
"There is not a whole lot to say about Kolby Scott that his actions don't already exemplify," commented Head Coach Steven Schaffer. "He is constantly striving to better himself in the off-season and during season. He goes out for every sport he can, dedicates himself to the weight room, and does not get himself into trouble."
"I've worked really hard this year and am excited to get back to the well," confirmed Kolby. "Hard work pays off."
Schaffer added that Kolby has only had 2 losses at the 170-pound weight class, both coming to wrestlers ranked in the top 3, one from Iowa and the other from Nebraska. In fact, he has not lost to anyone this year who isn't currently going to be wrestling at their respective state tournaments.
Kolby's trek to State began on February 6th at Sectionals. There he beat Brock Mier from Alta-Aurelia in the championship which sent Kolby to the Districts. Mier also advanced to Districts. They were held this past Saturday in Guthrie Center.
This past Saturday started off well for Kolby. He pinned Christian Nolte from AC/GC to send him to the championships. The top two wrestlers would earn a trip to State. Kolby and Blake McAlister from South Central Calhoun shook hands before wrestling in the championship in the 170 pound weight class. Unfortunately, Kolby was pinned, giving McAlister a trip to State and Scott a trip one more time to the mat that afternoon to determine the second place winner. This is where dejavu struck. Kolby found himself against Brock Mier from Alta-Aurelia, the wrestler he defeated a week earlier to advance to Districts. The results were nearly the same with Scott winning with a major decision. This win keeps the sophomore's wrestler season going for another week.
"Kolby is the most coachable kid I have ever gotten to coach and it shows," added Schaffer. "When we need to fix something he listens and adjusts, this is his second straight trip to the state tournament and it is well deserved!"
Kolby's first match in Des Moines will be Thursday at 9:00 a.m. The brackets can be found in this issue.
Kolby is the son of Jenny and Brian Scott of Mapleton.